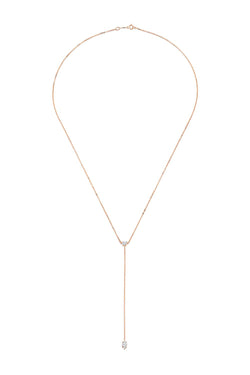 18-Karat Rose Gold Lariat Diamond Necklace
Send a hint to make sure you get the gift you really want!
Your hint has been sent!
This lariat necklace is cast from 18-karat rose gold that's encrusted with a 0.3-carat glistening marquis and 0.25-carat heart-cut diamonds. It looks just as great with a plunging gown as an unbuttoned cardigan.
Details
- Marquis and heart brilliant-cut G VS2 diamonds, total weight: 0.55-carats
- Clasp fastening