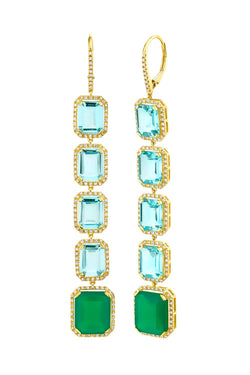 SHAY
Blue Topaz & Green Agate 5 Tier Portrait Earrings
Send a hint to make sure you get the gift you really want!
Your hint has been sent!
The SHAY Blue Topaz & Green Agate 5 Tier Portrait Earrings have been crafted from 18cts yellow gold and feature approx 1ct of white diamonds with approx 34.07cts of blue topaz and green agates.
Details:
- 18K Gold: approx 16gr
- White Diamonds: approx 1ct
- Blue Topaz & Green Agate: approx 34.07cts
- Natural, untreated gemstones
- Made in the US
Size & Fit
-  Length: 80mm