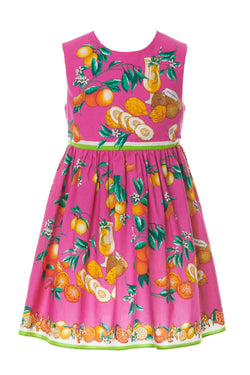 Citrus Print Poplin Midi Dress
Send a hint to make sure you get the gift you really want!
Your hint has been sent!
Dolce & Gabbana are celebrating the golden era of the Dolce Vita on the island of Capri, where traditions become emotions and translate into colourful prints that are full of irony, inspired by souvenir dishcloths and Mediterranean vibes. A colourful and joyful overview that conveys a zest for life and positivity. This citrus print crewneck dress features an abundance of lemons and oranges over a midi style dress with nipped waist and slightly pleated skirt.
Details
- Cotton
- Made in Italy
Size & Fit
- This style fits true to size