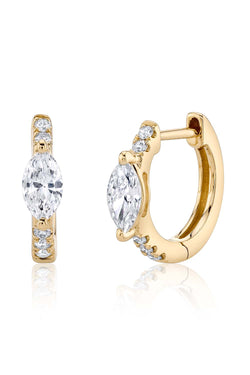 Huggies 18-Karat Gold Pave Earrings with Marquis Diamond
Send a hint to make sure you get the gift you really want!
Your hint has been sent!
Anita Ko's hoops are perfect to be worn every day. Illuminated by round-cut diamonds, they're cast from 18-karat yellow gold and playfully set with a marquise-shaped stone in the centre.
Details
- Marquise-cut F-G VS2 diamond, total weight: 0.43-carats; round-cut F-G VS2 diamonds, total weight: 0.10-carats
- Post fastening for pierced ears
- 18k gold diamond huggies with marquis shaped diamond centre.