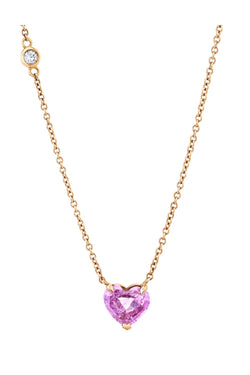 SHAY
Pink Sapphire Solitaire Heart Necklace
Send a hint to make sure you get the gift you really want!
Your hint has been sent!
The SHAY Pink Sapphire Solitaire Heart Necklace features a centre pink sapphire of 1.68cts plus a white diamond 1.30cts on an 18K rose gold chain.
Details
- 18K Yellow Gold
- White Diamond: 1.30cts
- Pink Sapphire: 1.68cts
- Prong Set
- Natural, untreated gemstones
Size & Fit
- Standard size: 14-16"