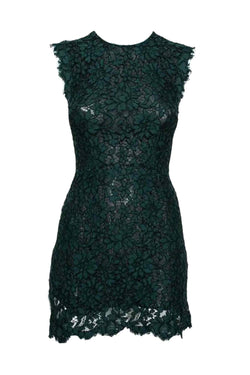 Send a hint to make sure you get the gift you really want!
Your hint has been sent!
Create a stylish silhouette with this dress from Dolce & Gabbana. The creation is constructed using green lace into a mini silhouette with a fitted waistline and round neckline. Complement the dress with a blazer and chic heels.
Details
- Made in Italy
- Main: 80% Cotton, 10% Viscose, 10% Nylon
- Lining: 86% Silk, 12% Elastane
Size & Fit
- Italian sizing
- Fits true to size
Condition
- This item has had a past life and is in great condition