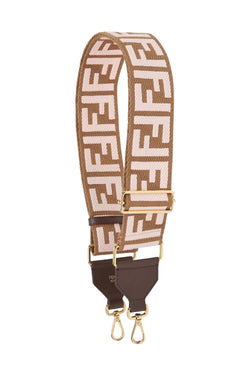 Pre-Owned
Strap You Ribbon Shoulder Strap
Send a hint to make sure you get the gift you really want!
Your hint has been sent!
Long adjustable shoulder strap with double clip, to use in combination with any bag with hooks. Made of brown webbing. Finished with candy pink FF print. Tone on tone leather details. Gold-finish metalware.
Details
- Made in Italy
- 98% polyester, 2% nylon
- 100% calf leather
Size & Fit
- Height: 6 cm
- Width: 110 cm
Condition:
- This has never been used and is in new condition
- Comes with its original box and dust-bag